[vc_row css_animation="" row_type="row" use_row_as_full_screen_section="no" type="full_width" angled_section="no" text_align="left" background_image_as_pattern="without_pattern"][vc_column][vc_column_text]
Updated: Tuesday — April 14th, 2020
[/vc_column_text][vc_empty_space height="20px"][vc_separator type="normal" color="#f5b21d" thickness="2″ up="20″ down="20″][vc_empty_space height="20px"][vc_column_text]
Are you currently in disinfect mode? Yeah, us too. Globeo knows 3 items you may have skipped over during your spring cleaning.
Check them out below!
[/vc_column_text][vc_empty_space height="20px"][vc_separator type="normal" color="#f5b21d" thickness="2″ up="20″ down="20″][/vc_column][/vc_row][vc_row css_animation="" row_type="row" use_row_as_full_screen_section="no" type="full_width" angled_section="no" text_align="left" background_image_as_pattern="without_pattern"][vc_column][vc_column_text]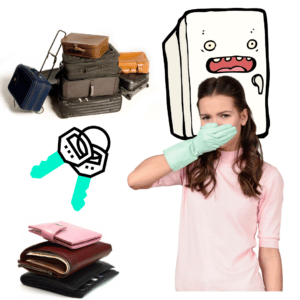 Refrigerator & Pantry Organization
Cut down on wasted food cost by organizing your kitchen by date of purchase to ensure you're using your food before it expires. For more tips, click here.
Disinfect Your Suitcase
Think of all the germs your suitcase may have picked up during travel (in the streets, airports, hotels). When it's time to get back on the road or in the sky, your suitcase will be sanitized for the ride.
Purses, Wallets, & Keys
Think about it – your credit card passes through the hands of waiters, cashiers, and every card machine it swipes through. After all that foreign contact, you put it pack in your wallet or purse with your keys.
Try these cleaning hacks[/vc_column_text][vc_empty_space height="50px"][/vc_column][/vc_row][vc_row css_animation="" row_type="row" use_row_as_full_screen_section="no" type="full_width" angled_section="no" text_align="left" background_image_as_pattern="without_pattern"][vc_column][vc_separator type="normal" color="#f5b21d" thickness="2″ up="20″ down="20″][vc_column_text]While traveling may not be on your radar right now, We will continue to keep you updated with informational articles, travel tips, and more to feed your passion for travel until your next trip. Visit our YouTube channel to see more videos like the one below.[/vc_column_text][vc_empty_space height="50px"][vc_video link="https://www.youtube.com/watch?v=4vQ9FRdCGt0″][vc_empty_space height="50px"][/vc_column][/vc_row][vc_row css_animation="" row_type="row" use_row_as_full_screen_section="no" type="full_width" angled_section="no" text_align="left" background_image_as_pattern="without_pattern"][vc_column][vc_separator type="normal" color="#f5b21d" thickness="2″ up="20″ down="20″][vc_column_text]
RELATED POSTS
[/vc_column_text][vc_empty_space height="20px"][vc_column_text]
[/vc_column_text][/vc_column][/vc_row]